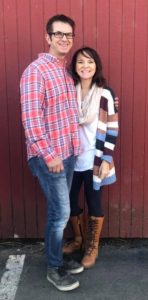 Russ & Lisa |
Lead Pastors
Russ and Lisa count it an awesome privilege to serve the Lord Jesus as pastors at The Source Church. Married for over 30 years, they have served in full-time ministry for most of those years and value the partnership of serving alongside one another.
Russ has a deep commitment to God and His Word and serves through teaching, encouraging others in their walk with the Lord and developing leaders. A musician at heart, he can often be found helping lead worship. He is a life-long Star Wars fan, loves watching movies, long walks with Lisa and hanging out with his kids and now their 4 grandsons. He holds an MA in Exegetical Theology and an MA in Counseling from Western Seminary, and is a Licensed Professional Counselor.
Lisa has a passion for Lord Jesus and encourages and challenges others in their commitment to the Savior through relationships and leadership development. She loves working with young people and has headed up our youth and college ministry for years. In addition, she has led our teams that have served in inner-city San Francisco, Guatemala and India. She loves playing the bass, acoustic guitar and singing with the worship team, enjoys baking, shopping and most of all spending time with her family, especially the grandkids. She holds a BA in leadership/ministry and an MA in Counseling from Multnomah University, is Licensed Professional Counselor and an adjunct professor at Multnomah University.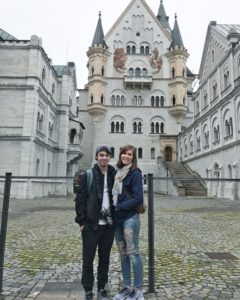 Xander & Hailey |
Worship, Youth and Children's Ministries
Xander and Hailey serve as assistant pastors working with Youth, Worship and Children.
They both graduated from Multnomah University in 2018, Xander with a BA in Bible and Theology and Hailey with a BA in Youth Ministry and Theology. While at MU they served in leadership roles with worship and student life. They are both fun and energetic as they engage with the youth at The Source. Overseeing our worship ministry, Xander has a passionate heart for leading people into God's presence. Hailey's heart is in working enthusiastically with youth and sharing her authentic concern and compassion.
In their spare time they love to… Wait! These two have a toddler and a 4 month-old, Sully and Franky. They have no spare time. But beyond playing with and loving on their adorable sons, they love to hang out with friends, go on hikes, travel, or play any one of their thousands of board/card/or dice games. When they are alone Hailey can be found piecing together puzzles or reading, and Xander is an avid video gamer.